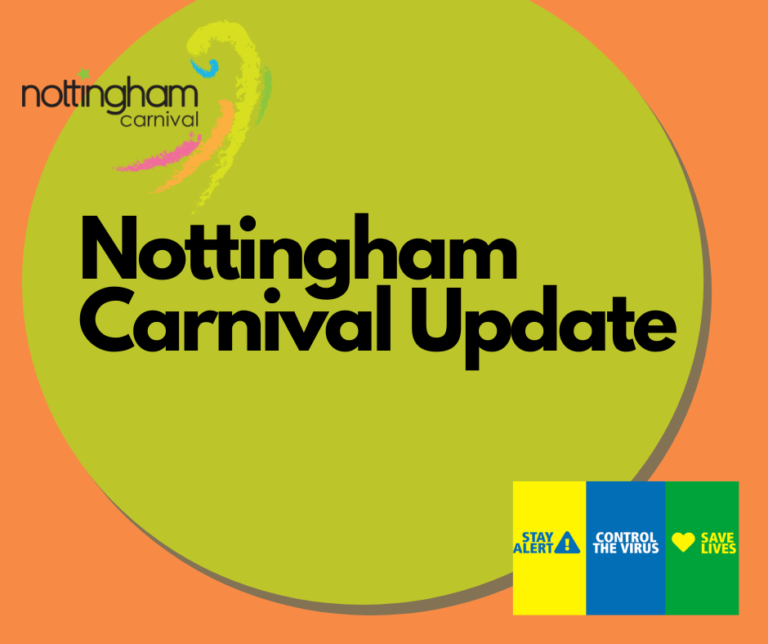 Nottingham Carnival Update
Cancellation of Nottingham Carnival 2021
We are disappointed to announce that the Nottingham Carnival 2021 planned for the 22nd August 2021 will not be going ahead as originally planned.
The decision has been taken in the light of the increasing number of people being tested as positive for Covid 19 and having to isolate as a consequence. This is very likely to affect our ability to ensure that we have enough staff and volunteers on the day to enable a safe event as well as potentially impacting on our amazing costume designers, parade participants and other entertainers without whom there is no fantastic carnival.
We will be exploring ways in which we can still bring you some live carnival entertainment before the end of the year, if feasible to do so, please look out for those details. In the meantime please keep yourselves safe.
Councillor Eunice Campbell-Clark, Portfolio Holder for Leisure and Culture at Nottingham City Council, said:
"I share the disappointment of the carnival organisers that they've been forced to cancel this year's event. It's a real highlight in the city's calendar and I know how much the community looks forward to it."
"However, I fully support the decision which is difficult to make. While it's true that most restrictions have ended this week as part of Step Four of the Government's National Roadmap, Covid cases continue to rise locally and around the country so it's absolutely vital that we go carefully."
Watch Nottingham Carnival 2020 on YouTube
Due to the UK lockdown, we were not able to meet in person for our 2020 carnival. However, we still shared our Nottingham pride by live streaming our events. 
Watch out for more carnival updates by following us on Facebook, Instagram, and Twitter.